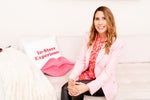 Meet Our Founder
Sonia Summers is the Founder, CEO, and skincare trailblazer behind Shielded Beauty. It started in 2020 when Sonia was concerned and challenged with protecting her skin. She didn't find skincare that lived up to her standards so she made it.

"I believe efficacy shouldn't be compromised for luxury and skincare should always be effective."


Sonia has revolutionized the face of the global beauty industry by decoding her expertise into transformative products that are both clean and clinical. Shielded Beauty was developed to restore and protect the skin's microbiome with safe, effective ingredients for everyone.

Today, Sonia is a highly awarded global powerhouse with awards for WWD's Best Executed Brand Launch for her time with global powerhouse Avon and listed on the Inc. 500 Fasted Growing Companies with her best-in-class outsourced beauty sales agency Beauty Barrage. She continues to elevate and disrupt the industry with clinically proven, best-in-beauty practices.



You may also be interested in...
Fifth Annual Awards Program Celebrates Companies, Services and Products That Represent Innovation Within the Global Beauty Industry LOS ANGELES, Nov. 14, 2023 (GLOBE NEWSWIRE) --...
This is an excellent gift for both women and men. This clean microbiome skincare brand protects skin from pollution and blue light while repairing, restoring,...