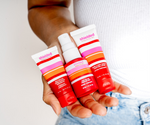 Introducing Shielded Beauty
Hey there! Just in case you haven't heard, we are Shielded Beauty — a revolutionary clean beauty brand disrupting the skincare industry. Last year, we launched a collection of products specially-formulated to nourish, fortify and protect the skin's microbiome from harmful environmental invaders. Even though we are technically a "clean" brand, our mission is SO much bigger than fitting into the "clean beauty" category. We want to say goodbye to "no-no" lists, ingredients demonized as "toxic" and products sacrificing on quality in order to be categorized as clean. We loaded our products with skin-strengthening powerhouse ingredients — as well as our patent-pending Guardian Complex™ — providing you with the ultimate protection to go out and face the day. When you #SafeguardYourSkin with skin-restoring, microbiome-friendly products, you are finally able to focus on something so much more than being clean — you're being SAFE! Don't compromise on protection. The safety of your skin should always come first! We are Shielded Beauty — where safe is the new clean. 
Back in 2020 when the COVID crisis unfolded, beauty business maverick Sonia Summers found herself constantly searching for a safer way to protect our skin — but she couldn't find any highly-effective purifying products that also prioritized nourishing the skin's microbiome. Sonia felt like she shouldn't have to compromise on luxury for efficacy. With 20 years of industry experience under her belt, she decided to start developing the products that she was desperately looking for herself! 
It's important to establish why skin protection is so imperative, especially during the pandemic. For instance, did you know that the skin is the largest organ in our bodies? Yes, it's true! Your skin is your body's largest mechanical barrier against the environment & invasion by microorganisms — it's your shield between you and the outside world. Your uppermost epidermal layer is covered by a protective surface that removes these harmful microorganisms through the sloughing off of dead skin cells — formally known as keratinocytes and acidic sebaceous secretions.
Still with us? We know, it's technical — but let us help you! Every day, your skin is fighting an invisible battle against environmental aggressors and airborne pathogens. When you nurture your skin with ingredients that fortify it's microbiome and natural moisture barrier, your skin is able to defend itself against the microorganisms that threaten to invade and wreak havoc on your skin. There are many factors that can lead to your skin's barrier being disrupted/compromised which can result in a whole spectrum of different skin issues. Your best chance at protection is to prevent this barrier disruption from happening in the first place! 
Your skin is your first line of defense between you and the outside world. Sonia understood just how important this was, so she developed an innovative brand that defends your skin from today's harmful environmental aggressors. As a brand, we talk a lot about shielding your skin from "environmental aggressors" — but what exactly are these aggressors? And how are they harmful to us? The main environmental aggressors that contribute to skin damage are sunlight, infrared radiation, air pollution, hot and cold temperatures, and cigarette smoke. Blue light has also been analyzed in recent studies to potentially have the same destructive effects as these already-established environmental aggressors. These aggressors generate free radicals, which cause a damaging chain of events that affect skin at its cellular level. This damage impacts both the skin's appearance and long term health. They can also cause destruction which can manifest as inflammation, DNA mutations, protein damage, and changes in gene expression. When cells become less able to defend themselves from environmental assault, they lose their ability to replicate correctly. The visible signs of this include — fine lines, wrinkles, laxity, discoloration and in the most extreme cases, even skin cancer. Using ingredients in your skin care that are scientifically-proven to defend your skin against free radicals can dramatically impact your skin's strength and resilience, as well as boost its ability to defend itself.
Free radicals are actually naturally produced in our bodies to help combat viruses and bacteria. Environmental aggressors and pollutants also produce these free radicals, which puts our skin at risk of having too many — this is what will begin to affect the skin's structural layer and defensive barrier (made up of collagen and lipids). To get a little scientific — free radicals can cause damage to the skin because they steal extra electrons from other molecules. When these electrons are stolen, it causes direct damage to the skin's DNA which results in accelerated skin aging. Free radical skin damage can manifest in several ways — premature wrinkles, unwanted pigmentation, unevenness in skin tone as well as dull skin. What's even worse is, over time, these effects only become more and more noticeable!
If the pandemic has taught us anything, it's the importance of practicing good hygiene habits. We want to empower you to go out and face the day with peace of mind – knowing that you are using products that will help to safeguard your skin against anything that threatens to throw it off balance. Shielded Beauty provides a double dose of natural antimicrobials and skin-boosting ingredients to give you the radiant glow that comes from healthy skin. Our clean formulas combine safe, effective and natural ingredients to deliver real results: 

Clinical Study showing the visible results of Shielded Beauty's Self Defense Super-Charged Moisturizer
(Before Application // After 4 Weeks Application)
Clinical Study showing the visible results of Shielded Beauty's Hand & Body Shield Purifying Lotion
(Before Application // Directly After Application // After 4 Weeks Application)
Clinical Study showing the visible results of Shielded Beauty's Night Life "Live" Probiotic + HA Serum
(Before Application // After 4 Weeks Application)
In a rapidly-evolving world in the midst of a pandemic, skincare attitudes have no choice but to shift. Research indicates that passionate beauty consumers are more conscious about shielding themselves from airborne pathogens than ever before. One of the best ways to help prepare your skin for combat with these aggressors is to ensure that your skin's microbiome is as healthy as it can be. Adding good bacteria back into your skin's microbiome, as well as using gentle products to help maintain its balance, seems to be essential in achieving optimal skin health. In August 2021, Shielded Beauty released a 6-product collection formulated to repair and restore your skin's microbiome. Enriched with a patent-pending Guardian Complex™ — containing potent antioxidants, nourishing hydrators, gentle actives and natural compounds known to contain antimicrobial activity — never before seen in skincare. The Independent Innovation Awards Program's Microbiome Skincare Product of the Year 2021 was awarded to Shielded's Self Defense Super-Charged Moisturizer after being recognized for its innovative, skin-strengthening ingredients. Shielded Beauty's microbiome-friendly collection includes a prebiotic cleanser, a probiotic night serum, skin-restoring moisturizers and a purifying mist, all of which work in harmony to rebalance, strengthen and protect the skin's barrier. Shop the full collection here.