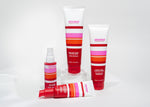 4 Steps to a Healthier Microbiome
The skin is home to a community of billions of friendly living microorganisms known as the skin microbiome. It is the skin's own immune system, protecting the body from invading pathogens like infection, cancers, and toxins in addition to being an actual physical barrier against external environmental factors. It is made up of more than 1,000 different species of bacteria and up to 80 different fungi species all living together to maintain the skin's immunity. 
The skin microbiome plays many roles in keeping us healthy – not only does it communicate with our immune system and fight off infection, but it also eases inflammation, helps in wound healing, minimizes oxidative damage, and keeps the skin hydrated. It's when that skin barrier is broken or unbalanced that we see skin issues including everything from acne to eczema to cancer. 
A healthy and balanced microbiome is crucial to skin health. Shielded Beauty recognized how important a healthy skin microbiome is and created a clean beauty breakthrough. Their patent-pending Guardian Complex™ was created to safeguard the skin from impurities and balance the microbiome. Containing potent antioxidants, nourishing hydrators, gentle actives and natural compounds known to contain antimicrobial activity, the Guardian Complex™ is unlike anything seen before in skincare. Shielded Beauty has been recognized as "The Microbiome Skin Brand You Need to Know" by Bustle and received Microbiome Skincare Product of the Year at the 2021 Independent Innovation Beauty Awards. 
When it comes to a healthier microbiome, Shielded Beauty recommends these 4 key steps:
1. Cleanse
Shielded Beauty's Feeding Frenzy Probiotic Cleanser is formulated with prebiotics which leave skin soft, supple, and perfectly prepared for the next step in this healthy microbiome routine
2. Fortify
Face The Day Purifying Mist shields, soothes, moisturizes, and energizes the skin. A feather-light mist, it works to restore balance withing the microbiome without weighing it down
3. Moisturize
The award-winning Self Defense Super-Charged moisturizer is enriched with essential nutrients, antioxidants, and Shielded Beauty's patent-pending Guardian Complex™ to help protect the skin from environmental aggressors.  It's so innovative and effective it was named the Microbiome Product of the Year by the Independent Beauty Innovation Awards!
4.Protect
Shielded Beauty's Hand & Body Shield Purifying Lotion protects the rest of the skin on the body. Featuring a rich, velvety texture tailor-made for the body's skin, this revolutionary treatment offers the perfect remedy for bringing moisture back to all of your skin.  
Shielded Beauty's microbiome-friendly collection works in harmony to rebalance, strengthen, and protect the skin's barrier. And a healthy skin microbiome flourishing with good bacteria not only helps our skin look great but protects our body overall.