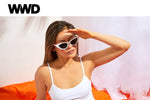 WWD-'Safe Is the New Clean,' Says Beauty Executive Sonia Summers, Introducing First Brand Shielded Beauty
I feel like a mad scientist," said Sonia Summers.
The beauty executive, founder and CEO of service and management company Beauty Barrage, has been busy developing her first brand: Shielded Beauty.
Created as a result of the pandemic, the skin care brand blends actives with natural antimicrobial ingredients.
"They say that there's a generation C now, which is coronavirus, all of us who have survived the crisis," continued Summers. "We're going to have a lot of lingering feelings and behaviors from what we're experiencing, and one of them is the way that we look at sanitation and products and what they do." Shielded Beauty nourishes but also protects the skin, she said. It's an entirely new beauty category.